Helping One Child might not change the World, but it could change the World for One Child.
As a charitable organization, we seek to support, empower and provide resources to those in need in Ghana and Uganda. It is a great way to donate to a good cause, and every little donation counts towards paving the path for a better tomorrow for our vulnerable children. We serve as torchbearers in a dark world for vulnerable children who cannot access quality education, food, health, and well-being. Sponsor a child today and take this opportunity to be the helping hand you have been looking for.
Your Support Can Change Someone's Life
We consider helping vulnerable children a noble act that attracts invaluable rewards bigger than us. With your sponsorship, you can help send a child to school, access healthcare, and provide other resources they need to succeed. By investing in a child's education, you're transforming their life, family, and community. Discover the joy of building relationships and making a lasting impact by sponsoring a child. We accept secure donations online from individuals and organizations looking to support our cause. 
Giving is not just about Making a Donation, it's about Making a Difference."  – Kathy Calvin

Ryvanz-Mia Charity is a 501(c)3 nonprofit organization. All online donations are tax-deductible in the USA. No goods or services will be provided in exchange for the contribution. If you have any questions about viewing your giving history, please feel free to contact us at info@ryvanzmiacharity.org
How You can Support Our Work?
We are a charitable organization driven by progressive ideas, bold actions, and strong foundation support for vulnerable children. We focus on four primary outreaches: education, medical aid and child well-being, feeding programs, and community support. Our efforts target some less developed areas in Ghana where people live unimaginably. All donations are tax-deductible and will support three main programs. With various active projects, we harness our resources to make a meaningful difference in supporting vulnerable children in Ghana. We have achieved great success and hope to do more. Are you ready to Join us as we strive to help children and young women by providing basic needs and empowering underserved communities?
If you are interested in volunteering with us, Please Apply Now.
Make checks payable to: Ryvanz-Mia Charity Corp, P.O.Box 4450, Hamden,CT 06514
To send your donations online through Bank transfer, please contact us for more information
We are always looking for our partners to join us & to make a difference. If you want to be a partner with us. Please get in touch us
You can donate us by Cash App also. Please Scan the QR code below :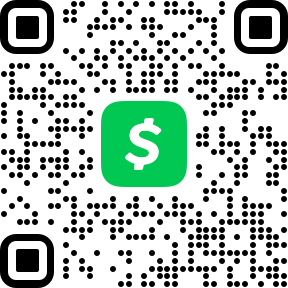 Ryvanz-Mia Charity
$RyvanzMiaCharity
We are accepting stationery items, school supplies and bags, non perishable food items, sewing machines, fairly used clothing and shoes.The organization will occasionally update the In Kind Donation page. If you can visit our In kind donations page to select and item(s) or support any of our causes. Lastly you can also please Contact Us.